Solan Sunbeds – Specialists in Sunbed Rental or Rent to Buy
Solan Sunbeds provide National UK coverage (England & Wales)
Come and see these sunbeds on display at our showroom.
Please call: 01925 242322 to book an appointment.
Unit 2a, The Oaks, Brook Lane Rixton, Warrington, WA3 6DS (5 mins from M62 J9 or M6 J21).
Rent commercial sunbeds for only £39 +Vat/week
No long contracts!
Unlike other suppliers, you are only committed to a short term contract when you rent sunbeds from us. (If you are a hotel of leisure club with your own maintenance facilities, you can rent a sunbed from us further afield than the Northwest Area). We also buy used sunbeds and are currently looking for Sunquest Zenith, Hapro Lumina and Shadow Lie-down Down Sunbeds and Sunquest Aurora/Topaz, Alisun Sunvision, Tansun Symphony and Uvascan Contour Vertical Sunbeds for us to refurbish – any condition, we can collect and pay cash.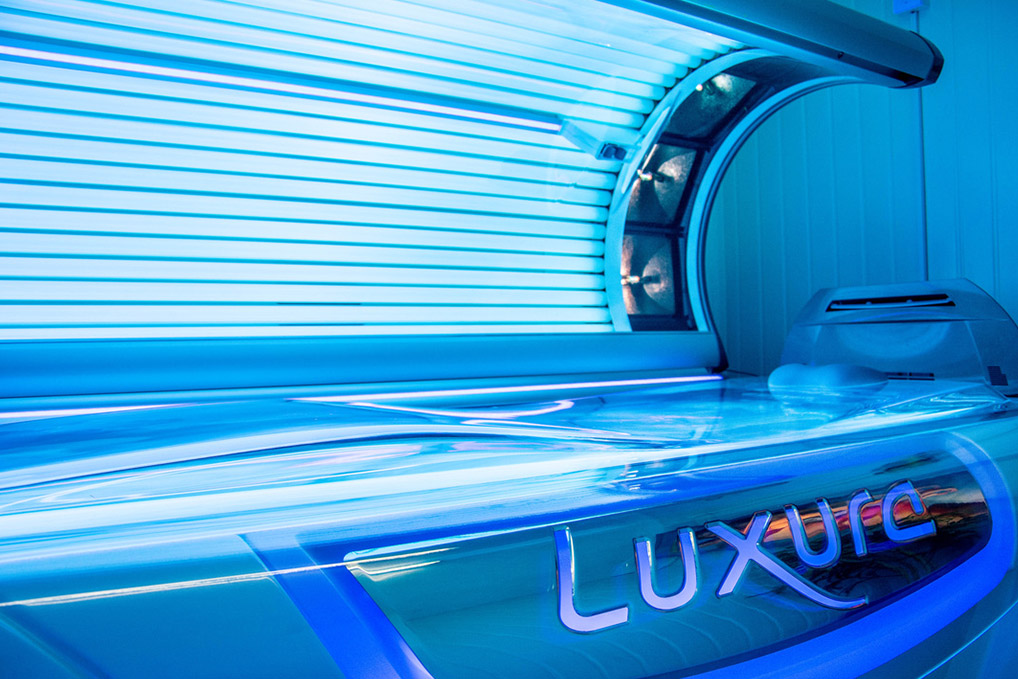 Sunbed Rental
Sunbed rental is an ideal way to test the water before you commit to buy. Commercial sunbed hire can turn your unused spare room into mini indoor tanning profit-making business.
Rewarding solutions without financial risks
Rent refurbished sunbeds such as the Hapro Lumina or Sunquest Zenith lie-Down sunbed, or the Uvascan Contour or Sunquest Aurora vertical from Solan Sunbeds of Warrington and you'll soon realise why our customers stay with us long term. Renting a sunbed is the ideal solution if you wish to provide your customers with tanning facilities without risking the initial financial outlay of purchasing a sunbed or sunshower. Many of our customers recoup their weekly sunbed rent payments part way through the first day of each week.
Reconditioned Lie-down Sunbeds from £39 +VAT per week
Lie-down reconditioned sunbed rental starts at £39 +Vat per week for a 32 tube Shade sunbed, or £39 +Vat/week for most other lie down models such as the Sunquest Zenith, Tansun Serenity or the very popular Hapro Lumina, and vertical sunshowers such as a 60 tube Uvascan contour, Alisun Sunvision XXL 200, Tansun Symphony or Sunquest Aruora and Topaz. Sunbed hire has replaced 50/50 profitshare, where you were required to pay half your monthly takings back to us. With senbed rental, you have a fixed cost of only around £39 +Vat per week, even if your sunbed or sunshower is taking over £100 per day, where with 50-50 profitshare sunbeds you would have paid us £50 per day. Now you can rent sunbeds from us and keep most of the takings yourself! At any time during the rental period you can buy the sunbed that you already have installed, for a pre-agreed fixed price. To rent lie down sunbeds your room size needs to be minimum 8ft long by 7ft wide. (8 1/2 feet for the Hapro Lumina) If you prefer to rent a vertical tanning unit you need a 7ft x 6.5ft room, with a minimum 8 ½ ft ceiling height. A £250 installation fee is payable on lie-down sunbeds, and Vertical Units. See our FAQ page for your electrical wiring specification.
Hiring our Sunbeds is an easy process
Hiring a sunbed or stand-up sunshower is extremely easy, you simply pay the Installation fee and first months rental in advance and agree to rent via a short term contract (Unlike other suppliers, you are only committed to a short term contract when you rent sunbeds from us).
To order sunbeds, the £250 installation fee is payable prior to delivery and we will also require the first month's rent on the day of installation. If you need quick delivery, you can pay the installation fee and first month's rent by Debit/Credit card over the phone, as do the majority of our customers. Subsequent rent is payable by monthly bank Standing Order starting one month from the day that your sunbeds are installed.
All maintenance and repairs are done at our cost.
The only other cost to you is towards a retube after the tubes have done 500 hour's use. They cost £10 per tube and we contribute half the cost, so you only pay £5 per tube. If you are charging the normal rate of £1/3 minutes (£2/6 mins, £3/9mins) then you will have taken £10,000 per sunbed by the time a retube is required. For a 48 tube sunbed this equates to just 2.5% of your takings. Some salons charge £1/2 minutes, meaning you will have taken £15,000 per sunbed before the retube is required.
Crucially, this is what gives you a massive advantage as a rental customer over other salons in your area that own their own sunbeds. Many of them do not keep track of when the tubes are due for replacement, or deliberately delay it to 800-1000 hours to save costs. But the customers do notice, and instead of complaining to the salon receptionist they usually simply go elsewhere. Also many salons delay replacing the odd tube that goes faulty until a few at once are required, giving their customers the (correct) impression that the sunbeds are badly maintained. Solan Sunbeds will keep your sunbeds in top condition, ensuring that the tanning power never deteriorates, and hence never giving your valuable customers any reason to try out your competitors
Lease Purchase Sunbeds
Sunbed lease is ideal if you have a good credit rating and can pass a lender's credit check. You can pay a 10% deposit (around £250) and lease-purchase the top-of-the-range sunbeds from around £30 per week over 3 years, after which the equipment is yours!
You need to be a home owner to demonstrate stability, but your property is NOT used as security. With Lease Purchase you are buying the sunbed from day one, so you are responsible for its maintenance after the 3 month guarantee has expired. To Lease sunbeds Call Solan Sunbeds: 01925 32 02 30 for details
Tailor-made solutions for all sunbed leases
With any lease purchase sunbeds or Rent-to-Buy sunbeds, we can still provide optional servicing and maintenance after you have purchased it. So if you hire a sunbed from us and decide to buy it, we will still be there to carry out servicing for you long after you have paid for it.
From a 200 watt Lay down sunbed to a 225 watt upright sunshower, we have a large selection in stock which changes rapidly. So whether you wish to buy a Sunshower, lease sunbeds, rent vertical tanning units, or lease sunshowers, give us a call for a tailor-made solution. rent a sunbed with the confidence that you have at your disposal our 29 years experience.
All commercial sunbeds supplied by us include a token meter, tokens, goggles headpad and a starter pack (window poster, Health and Safety poster and example customer record cards).
Back up service is always just a phone call away.
Tanning Creams at Trade Prices
We also introduce you to our tanning cream supplier, ensuring that you receive full trade discount, allowing you to make 100% mark-up on these products.
Telephone Solan Sunbeds: 01925 242322 for more information
From our Warrington base we specialise on sunbed rental throughout the UK (England, Wales & Scotland) to places including: Altrincham, Bolton, Bury , Blackpool, Birkenhead, Crewe, Congleton, Cheshire, Chester, Ellesmere Port, Knutsford, Liverpool, Manchester, Merseyside, Northwich, North Wales, Nantwich, Oldham, Preston, Prescot, Runcorn, St Helens, Southport, Stockport, Skelmersdale, Wallasey, Widnes, Winsford, Wigan and the Wirral. Further afield we cover London, Birmingham, Cardiff, Bristol, Edinburgh, Glasgow and Newcastle
Sunbed Rent to Buy
If you wish to Rent-to-Buy a reconditioned sunbed or sunshower for a fixed monthly payment, simply add £10 per week to the weekly rental figure to convert to 'Rent to Buy' After 2 years the equipment is yours to keep if your payments are up to date.
Alternatively you can hire sunbeds at the normal price, then upgrade to Rent To Buy at a later date by paying an extra £10 per week per sunbed. During Rent-to-Buy we still maintain the sunbed for you. All models of sunbeds and sunshowers are reconditioned, guaranteed, refurbished and re tubed. Lie-Down sunbeds usually available are Sunquest Zenith, Hapro Lumina E class and C class, Tansun Serenity, Shade & Shadow. They are fitted with 225 watt tubes. Vertical sunshowers available are Sunquest Aurora and Topaz, Alisun Sunvision XXL200, Tansun Symphony, Uvascan Countour and Uvascan V60, Renting to Buy a sunbed or Sunshower guarantees that not only are your monthly payments fixed, but that the equipment is yours to keep at the end of the 2 year term. Legal title of the equipment is transferred to you on payment of a transfer fee equal to one monthly payment after your 24th monthly payment.
Lie Down Sunbeds to Rent
Stand Up Sunbeds to Rent
Important Information: From ordering your sunbed and making payment please allow approximately 14-21 working days for installation. Also before arranging your installation date and placing your order please check your room sizes carefully: Lie-Down Sunbeds – Require a minimum room size of 8ft long by 6.5ft wide. (8 1/2 feet required for the Hapro Lumina) Stand-up Sunbeds– Require a minimum room size of 7ft long by 6.5ft wide.